Pep Guardiola fears Sergio Aguero could miss the rest of this season with a knee injury. The Argentine limped out of the out of the 5-0 victory over Burnley after winning a penalty following Ben Mee's challenge just before half-time. Guardiola revealed that he has been struggling with a knee problem since City returned to training last month from lockdown.
The 32-year-old striker will undergo tests on Tuesday at the training ground. The City boss confirmed he will be miss out for the next few weeks – and definitely Sunday's FA Cup quarter final at Newcastle but is worried he could be out for the rest of the campaign, including the end-of-season Champions League tournament in Lisbon.
Read also: 19TH APRIL FREE 6 ODDS MULTIBET OF THE DAY
"It doesn't look good. We will see tomorrow exactly what he has but it doesn't look good for the season," Guardiola said in his virtual post-match press conference.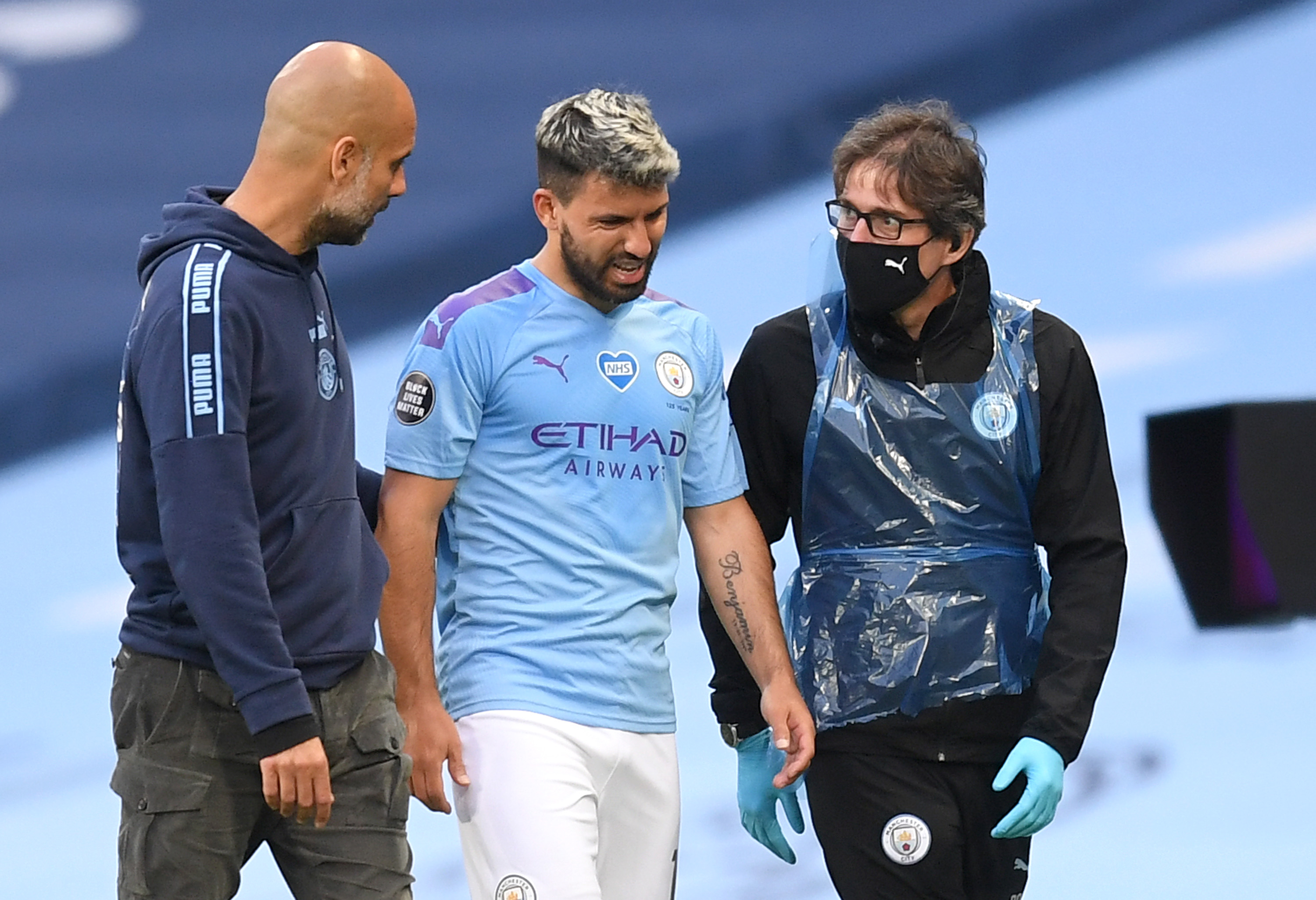 "He was struggling the last month with a problem in his knee and now he felt something but it doesn't look good.
"The doctor says it will take time. A few games [out] for sure but maybe tomorrow the tests he will get good news. We will see."
The Premier League is set to be finished July 26, with City scheduled to face Real Madrid in their Champions League last- 16 second leg just under a fortnight later.
Read also: 12th January Today Football Surebets Free Multibet Of The Day
Guardiola said before the beginning of Project Restart that he was worried about the potential of injuries that may arise due to clubs' lack enough time for preparation. The Injury to the Argentine was the only low point for City after a victory which saw Guardiola praise Phil Foden for his good performance during the match which he netted twice.
"When Phil plays, he's never played badly," the City boss said. "Especially his behaviour and his attitude. It doesn't matter if he plays or doesn't play, he loves to play football.
"You can see on his Instagram, when he is on a day off he is with his friends with the ball. He loves being the first out for a training session with the ball, he loves to play and every time he has played since he was promoted to play with us, he has always been a high level.
Read also: 11th January Sure Bet Tips Free Multibet Of The Day
"But we cannot forget he is 19 or 20 and he has to improve. He will be an important player for our next decade at this club. The minutes he has, he deserves it."