Jurgen Klopp fought back tears on Thursday night as his record-breaking Liverpool side were finally confirmed as 2019-20 Premier League champions after a 30 year wait.
Manchester City's 2-1 defeat at Chelsea meant that the title was handed over to Liverpool from the citizens. Klopp and his players watched the clash (Man city vs Chelsea) at a hotel on Merseyside and were in jubilant at the final whistle.
Read also: 19TH APRIL FREE 6 ODDS MULTIBET OF THE DAY
"It is unbelievable. It's much more than I ever thought would be possible," Klopp told Sky Sports.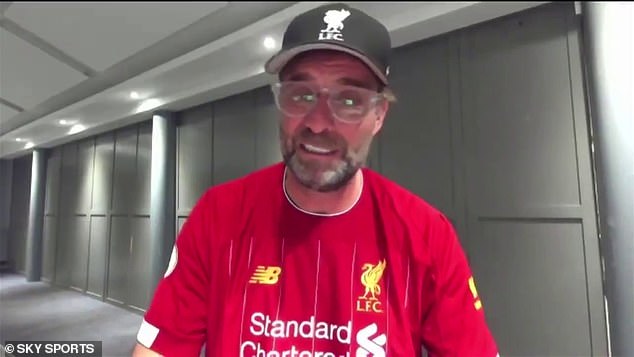 "Knowing how much Kenny supported us, it is for you. He has waited 30 years and it's for Stevie [Gerrard]. The boys admire you all and it's easy to motivate the team because of our great history.
"It was really tense for 100 minutes of the City game, I didn't really want to be involved but you are when you watch it. It's an incredible achievement by my players and it's a huge joy for me to coach them.
"I haven't waited 30 years, I have been here for four and a half years, but it is quite an achievement, especially with the three-month break because nobody knew if we could go on.
Read also: 12th January Today Football Surebets Free Multibet Of The Day
"The game last night gave me the feeling we would be fine and tonight is for the fans. I hope you stay at home, and it's a joy to do it for you. It [the pandemic] is not over yet and we watched the game together at the hotel so we will enjoy the moment.
"I know it is difficult for people in this moment but we could not hold back. We will enjoy this with our supporters when we can.
He added
Read also: 11th January Sure Bet Tips Free Multibet Of The Day
"I'm completely overwhelmed. I never thought it would be like this. I had no idea."
Thousands of fans assembled in their thousand outside Anfield, celebrating for the long awaited premier league triumph and Klopp dedicated the triumph that has been in the making for the past five years.
'It's for you,' he said. 'It is incredible. Celebrate it at home or in front of your house. It is a joy.
'My coaching staff, I could not be more proud of what a lot of people in Liverpool did. It has been a very exciting ride since the first day. We enjoy this moment. It is the best thing I can imagine. It is more than I could dream.
'We are in a bubble. I know it is difficult out there for a lot of people. These moments are unforgettable. We will create pictures in the parade for all of our supporters when we can celebrate in a proper manner.
'It is a mix of the history you created, we are compared with that. We had to write our own story. We have a wonderful mix of players, all winners. It is so incredibly difficult in this competition but consistency drives us.'